Thursday, April 15th, 2010 by Rachel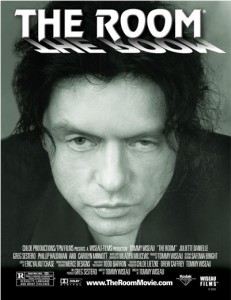 I'm exhausted. I had strange dreams that students crashed a party I was throwing. I've had bridesemaid nightmares. I dreamt that Carrot Top gave us discount tickets because we were on our honeymoon. You wouldn't believe how crazy my sleeping has been. The past two weeks have just been insane. But I had to get this down while it was fresh in my head.
A few months ago, Katie (future maid of honor) told us about this movie The Room. We watched a Youtube clip of this man entering a flower shop and picking up a bouquet of flowers at least a hundred times. (See video here. And it IS supposed to sound like that.) The creepo in the trenchcoat's tonality of "Oh, Hi!"s was strange and hilarious. Unfortunately, this movie was unavailable for rental and purchase in the boonies of Middle Georgia. I waited and waited and waited. Then I couldn't take it anymore and ordered it from Amazon.
The Room arrived last Monday. After a night of Mellow Mushroom and trivia on Tuesday, we came home and felt like we were in the right mood to watch it. It isn't a movie. It is an experience. In the basic plotline, Johnny and Lisa are engaged. Lisa's bored with the relationship and decides to cheat on Johnny with Johnny's best friend Mark. That's it. Subplots include Johnny's "adopted" son Denny doing drugs and Johnny missing out on a big promotion. It's all like watching a train wreck.
Written, directed, and starring Tommy Wiseau, The Room was never supposed to be a black comedy. This was supposed to be a drama. Unfortunately, the dialogue, plot, and character development is so ridiculous that it fails miserably…in a good way. Wiseau now claims that everything about this film was intentional, but we have NO idea where the 6 million dollars that went into this film actually went. Wiseau's interviews on the DVD and online are definitely worth looking into, if only to fall in love with the completely bongo cans Wiseau. Seriously, I could listen to that man ramble for hours. His voice…the mysterious accent (he claims to be American)…the uncontrollable inflections… Pretty classic.
After two viewings in a two week span, I feel pretty confident in recommending this movie. At some point, I would love to throw a Room-inspired party, complete with cheese pizza and lots of drinks (even if Johnny wouldn't approve of the drinks).
Leave a Reply