Sunday, September 6th, 2009 by Rachel
You know when you're walking in a crowded hallway or on a sidewalk and a woman walks past you. And she has that certain nostalgic déjà vu kind of smell. Maybe it's baby powder. Maybe it's her shampoo or too much perfume. I'm not sure. But it brings a strange sensation to your nose. Today I put on my pumpkin lotion. This makes me feel Halloweeny. I wonder what I smell like when I walk by people.
I watched Changeling for the first time on Cinemax last night. This is a movie that I planned to see since I saw trailers for it. I love Angelina Jolie, and her Oscar nod wasn't a bad endorsement either. When Dad gave me his review, saying that it was a too long movie in which Jolie says "I want my son" over and over, I believed him. (Though I was reminded of the SERIOUSLY disappointing movie The Forgotten ::shudders:: ) I came into this movie with really no expectations. I wanted to be entertained for a couple hours and I was. It was okay. I probably won't watch it again.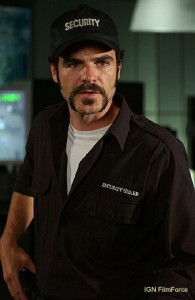 And since Halloween's on the brain, one of the most exciting performances in the film was the character of Detective Lester Ybarra by Michael Kelly. I remember him as C.J. in the Dawn of the Dead remake. Phenomenal actor on all fronts. I would cast him in anything.
But back to the movie. Ultimately, it was the title that disappointed me and gave me a false impression. This is a movie about a mother's struggle with the corrupt and incompetent LAPD in the 1920s. There is no magic in this world. This is a world of random acts of violence and violation upon those who live in it. There are no changelings, only victims and liars.
I'm reminded of a book that I read many many years ago as a child: Afternoon of the Elves. I need to reread this, as I'm sure I'd notice a lot more stuff as an adult than as a child.
The idea that there can be little worlds within worlds is one that I've been exploring right now in my poetry. This idea holds true to this book, and this is a level that I think is lacking in Changeling. We are faced with an incredible shrinking now circumcised child. There is no mystery about his character. He doesn't talk. He isn't creepy. He is harmless in every way. But of course, his arrival is VERY important as it sort of provides the catalyst for the action of the movie. (Arguably the primary catalyst is the first disappearance of the real son).
At two hours and fifteen minutes long, you think that some sort of development could've been forced on the little boy. Nothing. Finally, as he is dragged away by his real mother (when I read some historical background, turns out she was a cruel stepmother who motivated him to run away in the first place), he says "They told me to claim I was Walter". That's it. We have no real development here. Blame it on somebody else, the Changeling has disappeared an hour and a half into the movie, never to return.
Any thoughts?
Leave a Reply